[China] China has achieved all-round enhancement in the IP sector over past decade
2020-09-21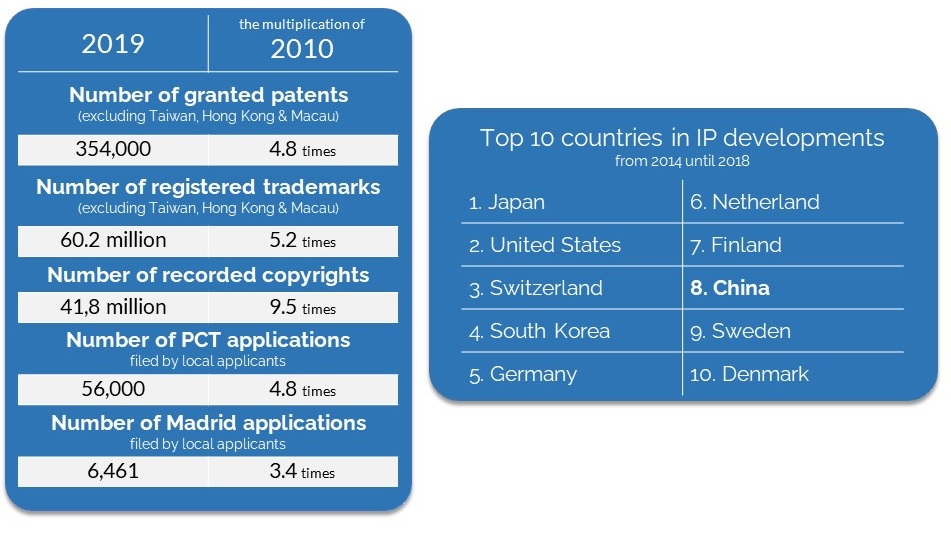 China has seen steady improvement in its intellectual property sector over the past decade, according to "
2019 China Intellectual Property Development Evaluation Report
" released by the China National Intellectual Property Administration (CNIPA) on 14 September 2020.
  The report evaluated China's IP development from four perspectives - innovation, application, protection and environment. The year of 2010 was set as the base period while the four indexes and the comprehensive IP development index were set at 100. Results showed that the country's comprehensive IP development index has increased over the past 10 years. The figure for 2019 was 279.2, rose by 8.4% on a year-on-year basis.
  The report demonstrated that China has achieved all-round enhancement in the IP sector, which can be attributed to effective strategies and people's combined efforts, said Han Xiucheng, director of the IP development research center at CNIPA.
  Among the four perspectives, innovation has developed rapidly since 2013 with the index reporting an average annual increase of 15 %. In 2019, the number of granted patents
increased to 354,000
and the number of registered trademarks
exceeded 6 million
.
  The country has also made remarkable progress in its IP environment with revised regulations and laws, improved services and enhanced awareness, said the report. The IP environment index rose to 297.4 last year
  As for IP application and utilization, the index increased sharply to 234.8 in 2018 and remained flat last year. IP applications have boosted the country's economic growth, according to the report. Statistics show that the added value of China's patent-intensive industries reached 10.7 trillion yuan ($1.57 trillion) in 2018,
accounting for 11.6 percent of that year's GDP
.
  With reference to regional performance, eastern areas outperformed central, northeastern and western areas in terms of overall IP development in 2019.
Shanghai
,
Jiangsu, Beijing, Zhejiang and Shandong
were the country's top performers.
  According to the report, the greatest gap between provinces was in IP environment. More efforts should be made to strengthen IP services and raise public awareness in rural areas, Han said. Additionally, while a huge number of patents and trademarks have been utilized in rural areas, they did not bring considerable economic benefits as expected. "This is a common problem found in most provinces, which indicates both IP quality and business environment need to be enhanced," Han said.
  From the international perspective, the report selected 40 sample countries and compared their overall IP development from 2014 to 2018.
Japan topped the list in 2018, followed by the United States and Switzerland
. China make it to the top 8 in 2018 from 20th in 2014.
  China's international influence in the IP sector has expanded greatly in recent years, said the report. According to the World Intellectual Property Organization, China became the top source of international patent applications filed via the Patent Cooperation Treaty in 2019, surpassing the United States which had ranked 1st for more than 40 years.
Source: China Daily in CNIPA